Sanskriti Sourabh has a centre at Karma Lakelands in Manesar. It is a gated community of villas being built around a golf course and Sanskriti Sourabh operates a Day Care Centre known as 'Karma Day Care'. It is open from Monday to Saturday from 7:30 am to 6pm. Sanskriti Sourabh's singular objective is to provide for the children of the staff and workers on the Karma Lakeland site. Often these kids are left unattended to roam aimlessly.
Schooling At Karma Day Care close to 50 children belonging to workers like gardeners, guardsmen, drivers, cooks and maids attend school on a daily basis. The majority attend a private school in Gurgaon - Shishu Kalyan, whilst some children attend a local Government school. All the children - studying in first to tenth grade are dropped to school and come back to the center after school gets over. The entire tuition fee, books and uniform is taken care of by Sanskriti Sourabh. Three teachers are assigned to assist the children with their homework and general studies. We are happy to see the overall growth This is benefiting the children greatly towards their all-around academic and personality development.
Creche Currently fifteen children belonging to the transient labour force working at the construction sites are using the creche facility. The parents leave their children at the center in the morning before proceeding for work. The children, ranging in ages from two to ten years, are bathed, clothed and taken care of. They are also taught some basic skills depending on their ages and abilities. Most of the children are sent back home in the evening on a tractor trolley.
Mid Day Meal At the center over sixty children are provided nutritious lunch every afternoon. The meal is prepared at the onsite kitchen at the centre. This activity is also used to teach the children about the merit of nutrition and good eating habits along with values like sharing, hygiene, team work and cleanliness.
Recreation There is a big compound where children play in the break and a "jhoola bari" with swings has been provided. Regular initiatives are taken to introduce children to music, pottery, sports and gardening through volunteer participation.
Parent Counselling Regular interactions with parents is conducted to keep them abreast of the progress of each child. This is specially crucial for the transient workers so as to convince them the importance of continuing their child"s education even after they move to a new work site. Their apprehensions, concerns and fears are openly discussed and appropriate action is taken wherever required.
Future Plans Vocational Training and classes for adults is the next priority at this center. We are in the process of garnering support from the visitors to Karma Lakeland especially the golfing community, to begin these new initiatives and upgrade the current facilities at the center.
We are working for a direct and tangible improvement in the lives of women in the financially low strata of the local populace by imparting training in various disciplines. As a result, the women start augmenting their family income and in the process, build their self-confidence.
| | | |
| --- | --- | --- |
| | Stitching classes, quilt weaving, candle making, toy making such activities are conducted from time to time. | |
Free Group Tuitions and Scholarships
It is common knowledge that the level of education imparted in Government Schools is not upto the desired standard to meet the competitive needs of today's requirements. Hence tuitions are essential for these students to succeed. What all of us take for granted is, and continues to be, just a dream for a majority of students in the underprivileged society. The parents of the underprivileged children are not educated themselves. They are therefore unable to assist or support them with their academic homework or learning process at home. And this is where Sanskriti Sourabh provides help.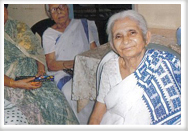 Medical Aid
We are also involved in providing support to members of an Old Age Home, set up by the Catholic Church and located in Asola, about 5 Kms from Mehrauli. Members are admitted regardless of religion and the Home currently houses about 20 inmates ranging from ages 70 to 80 years. Most of them have been virtually left to themselves by their children and have almost no source of income . Visits are made by us to the Old Age Home on a regular basis and we do what old people appreciate most – talk to them!! Stories are told and shared, and it is quality time spent together. In addition, the visits are accompanied with gifts of fruit, daily needs and cash at times.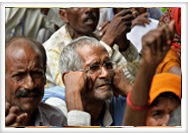 The Home is doing a good job by providing shelter and food to these seniors, but finds itself helpless in times of medical situations. That is when we step forward. Since no proper medical assistance is being provided, and since most of them do not have anyone to take care of their more serious ailments, Sanskriti Sourabh takes charge of such patients – taking them to the Clinics / Nursing Homes / Hospitals, dealing with the medicos and other staff, arranging medical care and nursing, providing medicines, and visiting the affected persons, as and when required. Dr. Geeta Shroff, a dear friend, is kind enough to lend a helping hand with "free bed" and medical nursing care at her Nursing Home, Nutech Mediworld located in Gautam Nagar, New Delhi. We also provide others outside the Old Age Home, "Need based Financial and Medical Help" on a case-to-case basis.